Baked Jackfruit Avocado Taquitos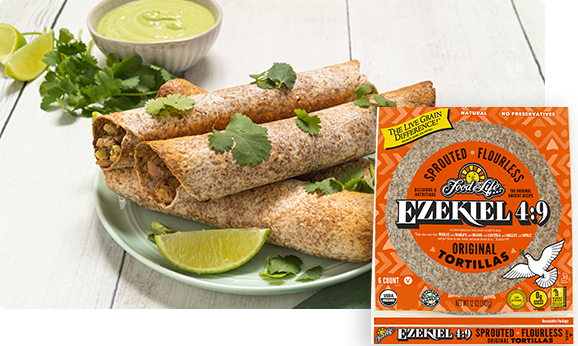 Ingredients
2 tsp olive oil
1 can of jackfruit in water or brine
1 medium avocado
½ cup cilantro, chopped
1 tsp lime juice
1 tsp garlic powder
½ tsp onion powder
¼ tsp cumin
1 tsp salt
½ tsp pepper
Directions
Preheat oven to 425 degrees Fahrenheit.
Mash 1 medium avocado, 1 tsp salt, ½ tsp pepper, 1 tsp garlic powder, ½ tsp onion powder, 1/4 tsp cumin, 1 tsp lime juice, and ½ cup chopped cilantro into a chunky spread.
Rinse and drain the can of jackfruit. Chop or shred the pieces of jackfruit into bite-sized pieces, like the texture of shredded chicken, with a fork. Thoroughly dry the jackfruit before moving on to the next step.
Stir in the jackfruit until the mixture is well combined, adding more seasoning to taste.
Warm your tortillas gently in the microwave with a damp paper towel a few at a time to keep them pliable when working with them.
On a baking sheet lined with foil, place a generous spoonful of the mixture onto the tortilla (a bit lower than the center), then roll up as tightly as possible and place the seam side down on the baking sheet. Repeat this process with the remaining tortillas and jackfruit avocado mixture.
If the tortillas aren't as pliable as you need, wrap them in foil before placing them on the baking sheet to ensure they will hold their shape as they bake.
Bake for 15 minutes.
Serve with salsa verde. Enjoy!