Cranberry Crumble Bars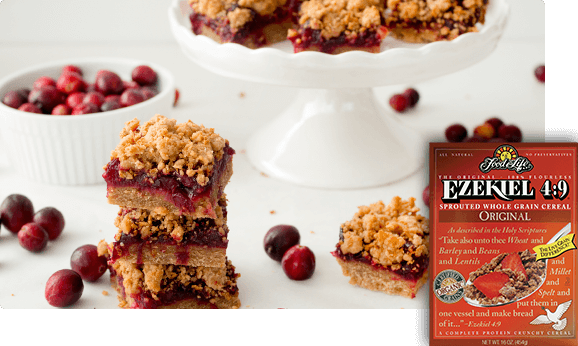 Ingredients
16 bars
12 ounces fresh or frozen cranberries
1/2 cup sugar
Zest and juice of 1 orange
3/4 cup (1 1/2 sticks) unsalted butter, softened
1/3 cup packed brown sugar
1 teaspoon vanilla
1 egg
2 cups all-purpose flour
1 teaspoon cinnamon
1/2 teaspoon nutmeg
1/2 teaspoon fine sea salt
Directions
Preheat oven to 375°F. Lightly oil an 8" square pan and line with parchment.
In a medium saucepan, combine cranberries, sugar, and orange zest and juice. Bring to a simmer and cook, stirring occasionally, until thickened, about 15-20 minutes. Set aside.
In a large bowl, beat butter and sugar until fluffy. Beat in vanilla and egg, scraping down sides of the bowl as needed. Add flour, cinnamon, nutmeg, and salt and beat in just until dough comes together. Press 2/3 of the dough into the bottom of the pan, reserving the rest.
Spread cranberry mixture over bottom crust. In a medium bowl, combine reserved crust mixture with cereal and crumble it over cranberries.
Bake until golden brown and bubbly, about 30 minutes. Allow to cool 10 minutes in the pan. Use parchment to lift bars out of pan and cut into 16 pieces. Cool completely.