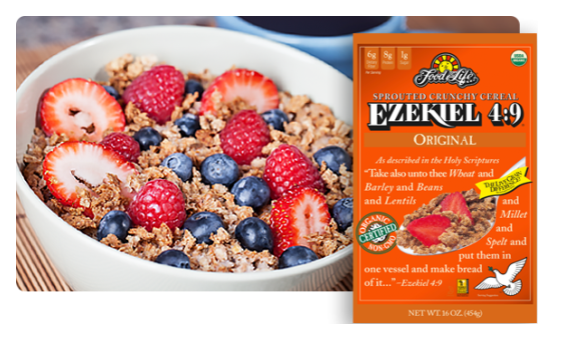 Sprouted Whole Grain Cereal
Most like our World Famous original Ezekiel 4:9® Bread - this cereal has a simple flavor and can be used as a topping for yogurt, ice cream or as a snack.
Ingredients
Organic Sprouted Wheat, Organic Sprouted Barley, Organic Sprouted Millet, Organic Sprouted Lentils, Organic Sprouted Soybeans, Organic Malted Barley, Organic Sprouted Spelt, Filtered Water, Sea Salt, Organic Rosemary Extract.
Contains: Wheat, Soy, Sesame
Good manufacturing practices are used to segregate ingredients and products in a facility that also processes wheat, soy, sesame and tree nuts.

Glycemic Index Test Results
The Test Food, in both diabetics and non-diabtetics responded as a Low Glycemic food when consumed raw (uncooked) when it is not consumed with a milk product. It is assumed that this would also occur with Soy milk, due to the added protein.