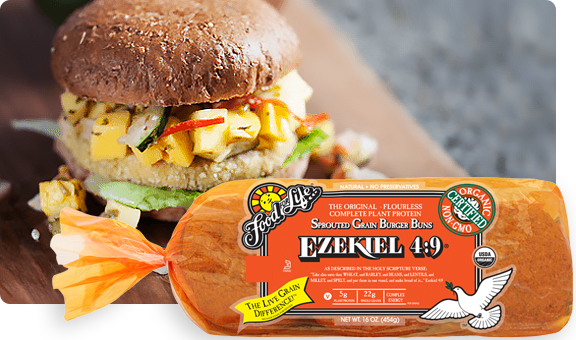 Sprouted Whole Grain Burger Buns
Our Ezekiel 4:9® Buns are made with same combination of sprouted organic whole grains as all of our Ezekiel 4:9® products These delicious buns can be used to make individual veggie pizzas, veggie burgers, or as dinner rolls among other ideas. They are available in most Natural & Specialty Stores nation wide.
Ingredients
Organic Sprouted Wheat, Organic Sprouted Barley, Organic Sprouted Millet, Organic Malted Barley, Organic Sprouted Lentils, Organic Sprouted Soybeans, Organic Sprouted Spelt, Filtered Water, Yeast, Organic Wheat Gluten, Sea Salt.
Contains: Wheat, Soy, Sesame
Good manufacturing practices are used to segregate ingredients and products in a facility that also processes wheat, soy, sesame and tree nuts.