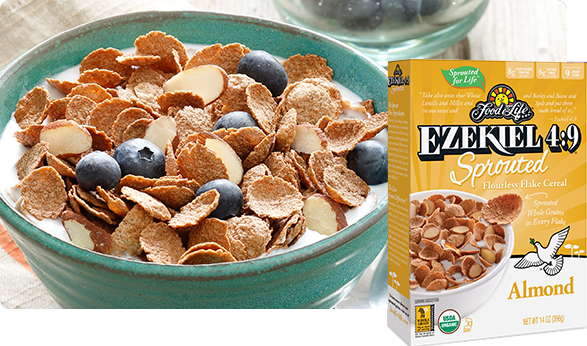 Best Healthy Cereal for Kids
Cereals are one of the most popular breakfast foods and understandably so. What's not to love about cereal? It has so many different styles/flavors. It's affordable, easy to make, loaded with protein when paired with milk, and quick to eat. All of these qualities are perfect for parents who understand the importance of feeding their children breakfast and who may occasionally find themselves in a rush in the midst of life's responsibilities. Despite how occupied life gets, it's important to remember how essential finding the healthiest cereal is for your children's well-being both today and long term. Food For Life understands this and has created the best healthy cereal for kids and adults.
Although Food For Life's original sprouted whole grain cereal caries a flavor that appeals more to adults, the Ezekiel 4:9 flake cereals are adored by children and adults alike. What makes this one of the best healthy cereals for your family is a combination of three things: the sprouted grains, the diversity of delicious flavors, and the overall health benefits.
Sprouted Grains
Using a sophisticated sprouted grain process, Food For Life has created the best healthy cereal. Sprouted grain cereals are uncommon amongst the sea of cereals that you observe when sailing down the grocery aisle. The difference between sprouted grains and every other grain found in cereal is life. Literally, sprouted grains are grains that have begun the germination process to becoming living grains but have not yet become a plant. As a result, the cereal is low glycemic (sugar) and much easier to digest. In short, a grain that's brought to life is going to make your body feel brought to life. With sprouted grain cereal, you and your children are getting the healthiest cereal you can possibly find. There's nothing else like it.
Diversity of Delicious Flavors
Food For Life makes flake cereal in four different flavors:
These popular morning flavors are packed with natural ingredients and are excellent choices to satisfy your children's taste buds. The key difference here is that no matter which flavor you choose, you're getting a cereal that tastes amazing without all the sugars that are in other brands. Ezekiel 4:9 flake cereals are also incredibly filling. Unlike sugary, processed cereals, you or your children won't be hungry in an hour after eating them. 
Overall Health Benefits
Food for Life's healthy cereals are all natural and made up of only organic ingredients. You will never find any chemicals, preservatives, GMOs (genetically modified organisms) or anything artificial used in Food for Life products. This healthy cereal from Food for Life provides all the nutrients you want and tastes great. There's no greater prize you can get from a cereal box than a healthy and thankful body. Give your kids and family a taste and let us know what you think!
Find a Store near you that has Food for Life's healthy cereal.