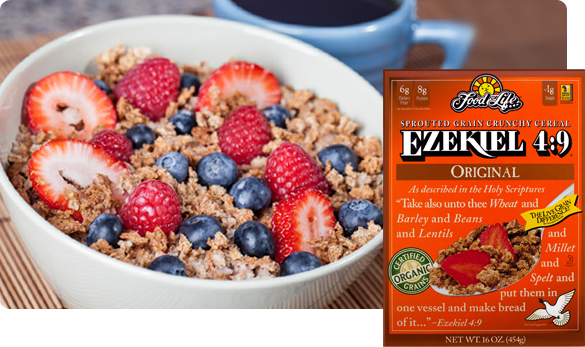 Ezekiel Cereal
Cereal has been an easy go to breakfast choice for families. 49% of Americans eat it for breakfast to be exact. Cereal is a great way to start off the day, but is it a healthy choice? We're going to help break down what to look for in a healthy and balanced diet cereal, with four easy tips:
Read the Nutrition Labels
This may seem obvious, but sometimes we are drawn to big bold words like "Reduced Sugar" or "Whole Grain" and we forget to check the labels. Certain cereals claim to have reduced sugar or whole grain but retain no nutritional value. Food For Life Ezekiel cereal will provide you with whole grains AND nutritional value. Cereals that are healthy for you will be able to provide you with nutritional value while maintaining the integrity of the ingredients.
Go For Fiber
Healthy cereals will provide you with fiber because the first ingredient should be wheat. Most cereal brands will have some sort of sweetener or sugar as their second ingredient and this should be an immediate red flag. Healthy cereals shouldn't have sugar as the second ingredient. Food For Life Ezekiel cereal is made with the same grains as their bread; seven organic sprouted grains, water and a touch of salt for flavor.
Control the Sugar
Sugar is something you should be able to control. We mentioned before that some cereals will have some form of sugar as their second ingredient. Sugar should be near the end of the ingredients list. Healthy cereals give you the power to control how much sugar you want to put in the cereal. Food For Life Ezekiel cereals don't have any sugar in them. Food For Life Ezekiel cereals put you in control of how much sugar you want to add.
Opt for Lower Sodium
Cereals that are good for your health will have a lower sodium serving. Cereals with a lower calorie count may not keep you full and you may have a second bowl, but if you're not careful that lower calorie cereal may have doubled your sodium intake as well. For healthy cereal options, opt for cereals that keep below 240 mg of sodium. Food For Life cereals are all below that amount and will be able to keep you full all morning.
Healthy Cereal Go-To
Food For Life Ezekiel cereal should be your go to healthy cereal. It has everything you need in a healthy cereal and nothing you don't. Food For Life has given their cereal the same ingredients as their Ezekiel bread. Food For Life's cereal contains seven organic sprouted grains that will keep you fuller than most cereals with just one serving. This cereal provides you with about a quarter of your day's daily fiber needs. Ezekiel cereal has a lower sodium count which helps lower high blood pressure and less likely to develop heart disease. Food For Life Ezekiel cereal has half of the potassium of a banana and all for under 200 calories! Ezekiel cereal is the healthiest cereal choice you can make because it is able to provide you with the nutrients you need to get your day started. Food For Life wants to help you lead a healthier lifestyle and that all starts with breakfast. Find Food For Life's Ezekiel Cereal in your local market's cereal aisle the next time you are there.
Find a Store near you that has Food for Life's Ezekiel cereal.