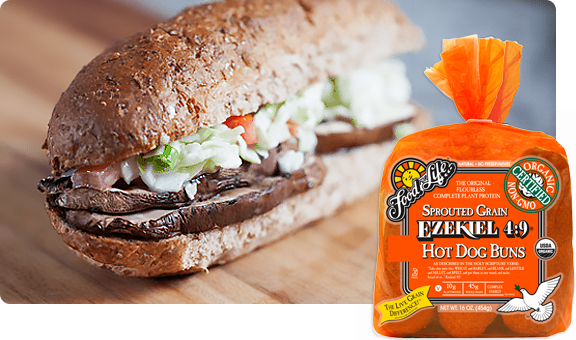 Sprouted Whole Grain Hot Dog Buns
Original Ezekiel 4:9® Sprouted Whole Grain Hot Dog buns are a great addition to summer meals.  Made with our famous Ezekiel 4:9® Bread recipe, using 6 sprouted whole grains and legumes.  Whether your barbequing vegetarian hot dogs, or making colorful cold sandwiches these delicious buns add substance to your meals.
Ingredients
Organic Sprouted Wheat, Organic Sprouted Barley, Organic Sprouted Millet, Organic Malted Barley, Organic Sprouted Lentils, Organic Sprouted Soybeans, Organic Sprouted Spelt, Filtered Water, Yeast, Organic Wheat Gluten, Sea Salt.
Contains: Wheat, Soy, Sesame
Good manufacturing practices are used to segregate ingredients and products in a facility that also processes wheat, soy, sesame and tree nuts.