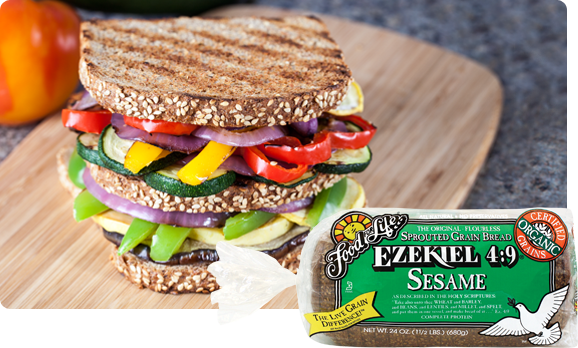 Amazing Vegan Protein Source | Food For Life Bread
When adopting a vegan lifestyle, one of the biggest concerns is that vegans risk suffering from protein deficiency. Protein is an important part of our diet as it acts as the primary building blocks of cells and muscles. The assumption is formed by believing that protein is only found in meat and dairy products; thus, vegans risk their overall health. This is a poor myth. The reality is that protein is found in all plant foods. Most dieticians recommend 0.5 – 1 gram of protein per pound of body weight per day to maintain and build muscles. This goal can easily be met and accomplished from plant-based protein. Food For Life's Ezekiel bread is an amazing vegan protein source to add to a plant-based protein diet.
Ezekiel bread is a healthy and tasty vegan bread that includes no dairy, no eggs, and no honey. It is a truly vegan bread that is an excellent protein source. The unique sprouted grains and legumes produce a complete protein, which is something you don't typically get from bread. It contains all the amino acids that make up the same kind of high quality protein you would get from eggs, milk protein, and meat. The quality is so high that it is 84.3% as efficient as the highest known source of protein. While most bread has 0-3 grams of protein per slice, Food For Life bread has a leading 4 grams of protein per slice, meaning each loaf contains 80 grams of protein! Not only is the protein content of Food For Life bread higher than most other breads, but it has no added sugar or bread preservatives, making it an all-around healthier option.
Protein from Food For Life's sprouted grain bread will also digest and assimilate to your body better than other breads and vegan protein sources. Food For Life chose to use sprouted grains because they have enzymes that break down carbohydrates and proteins. This makes the nutrients readily available for absorption so that your body doesn't struggle with the grains in the digestive process. This helps your body quickly have the protein it needs to recover, support brain function, and maintain overall long-term health.
Protein-packed plants found in Ezekiel bread include:
Organic sprouted lentils
Organic sprouted soybeans
Organic sprouted spelt
Each of these components make Food For Life Ezekiel bread an amazing vegan protein source. Ezekiel bread is the most recommended vegan bread available because it is truly 100% vegan, organic, contains sprouted grains, has more nutrients, holds less sodium, and is better for your health than any other bread.
Find a Store near you to get this amazing vegan protein source found in Food For Life's vegan bread.