3 Simple Dinner Ideas to Make Your Nights Easier
There are so many evenings when it might seem easier to go through a drive-through than to prepare something for dinner. Every once in a while you want to cook a meal that you don't have to put much thought into – or any thought into at all. Healthy dinners don't always have to mean long grocery lists and difficult recipes. Nutritious and uncomplicated dinners can be made in 30 minutes or less even if you are new to cooking. Do you want dinner ideas that are seriously delicious and make your evenings relaxing? Here are three simple dinner ideas to try now for busy evenings and healthy living: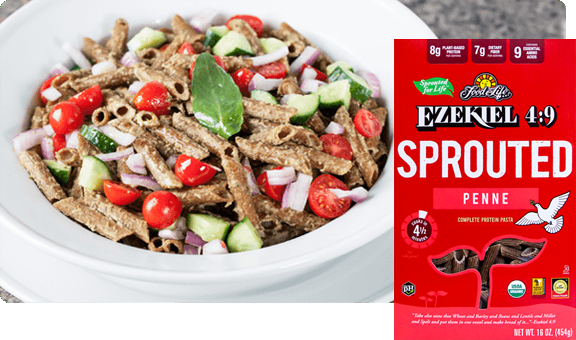 Mediterranean Summer Pasta – This dish is not only delicious, but it makes the whole kitchen smell amazing. Featuring Food For Life's sprouted whole grain penne pasta, this dish can be quickly thrown together to give you a dinner that will end your day feeling satisfied and energized.
Greek Pita Pocket – In the simplest terms, this ridiculously easy dish only requires Ezekiel 4:9 whole grain pocked breads, crumbled feta cheese, Greek vinaigrette dressing, chopped seeded cucumber, black olives, and a red pepper. These 6 ingredients will give you one of the easiest and healthiest dinners of your life.
Southwest Quesadilla – Do you love Mexican food that requires no effort to make? Think of this dinner recipe as one of the best. It has garlic, diced potatoes, cheddar cheese, and brown rice tortillas to make your night tasty and simple.
Your day is already ambitions and the last thing you need is for your dinner to be too. All of these recipes are effortless to help you sustain a regular and nutritious dinner routine in your house.
All of these recipes are user submitted and can be found here.
Do you have a recipe you enjoy making using Food For Life products? Share your simple dinner ideas here!