#1 Reason People Choose Sprouted Grain Ezekiel Sesame Seed Bread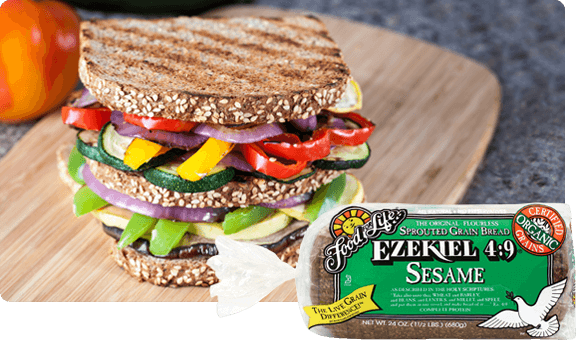 There are several reasons why people choose sprouted grain Ezekiel sesame seed bread over other whole grain breads. Sprouted grain offers nutritional benefits that traditional whole grain breads do not. The sprouted process is conducted in a very controlled environment, where the grains are allowed to sprout. From that point, they are ground down to be used as food. Sprouted grains are a living food containing enzymes which are released during the sprouting process. The purpose of these enzymes is to break down the protein and carbohydrates in the grain itself. This helps make sprouted grain sesame seed bread low glycemic and easier to digest. Traditional whole grain breads are not only harder to digest, but a good amount of the breads nutrients don't get digested by the body. Nutrients from sprouted grain breads are more easily digested by the body to provide more nourishment, when compared to whole grain breads.
Versatility is another reason why people choose sprouted grain Ezekiel sesame seed bread. You can use this bread for sandwiches, hors d'oeuvres, toast, and much more. Whether you want to create a great grilled cheese, finger foods for a party, or enjoy some French toast, or just plain toast with a preserve spread, sprouted Ezekiel sesame seed bread is a great option.
Probably one of the most important reasons why people continually choose sprouted Ezekiel sesame seed bread is the taste. Food for Life has been creating sprouted Ezekiel bread since the 1950's. They have created their sesame seed bread using the same time tested sprouted grain processes they use with all their sprouted grain breads, cereals, pastas, and English muffins. All Food for Life breads are Kosher, and don't have any flour, GMO's, refined sugars or anything artificial. The sesame seed bread, along with chia bread and all other Food for Life breads, are made from sprouted certified organic live grains.
In addition to the sprouted grain Ezekiel 4:9 sesame seed bread, here are some other great sprouted whole grain products from Food for Life:
Find a location selling Food for Life sesame seed breads HERE.
Learn more about Food for Life and the sprouted grain process HERE.