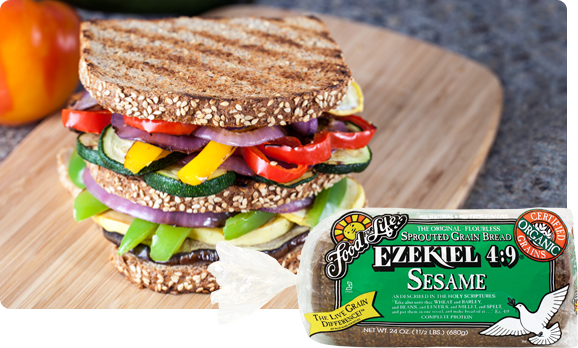 Sesame Sprouted Whole Grain Bread
The Miracle of the Sprouts
Food For Life Breads have THE LIVE GRAIN DIFFERENCE™!
Different from most breads today, this unique bread is made from freshly sprouted Live grains and contains absolutely no flour. We believe in sprouting the grains we use in our breads because sprouting is the best way to release all of the vital nutrients stored in whole grains.
You can see, taste, and smell THE LIVE GRAIN DIFFERENCE™!, of Food For Life breads. As nutritious as they are delicious. Food For Life breads are the substance of a meal - not just something that holds a sandwich together. See the difference fresh sprouts really make.

Ingredients
Organic Sprouted 100% Whole Wheat, Filtered Water, Organic Sprouted Barley, Organic Sprouted Millet, Organic Malted Barley, Organic Sprouted Lentils, Organic Sprouted Soybeans, Organic Sprouted Spelt, Fresh Yeast, Organic Wheat Gluten, Sea Salt, Organic Sesame Seeds.
Disclaimer
FOOD FOR LIFE, FOOD FOR LIFE Sun Logo, EZEKIEL 4:9, GENESIS 1:29, THE LIVE GRAIN DIFFERENCE, SPROUTED FOR LIFE, THE SPROUTED GRAIN DIFFERENCE, CLUCKPHREY, MOOPHREY, PROPHET'S POCKET BREAD, IT'S A NATURAL and THE NEXT LEVEL OF WHOLE GRAINS are registered trademarks owned by Food For Life Baking Co., Inc. The Dove Logo, and Prophet's Pocket Bread are trademarks owned by Food For Life Baking Co., Inc.
Popular Products