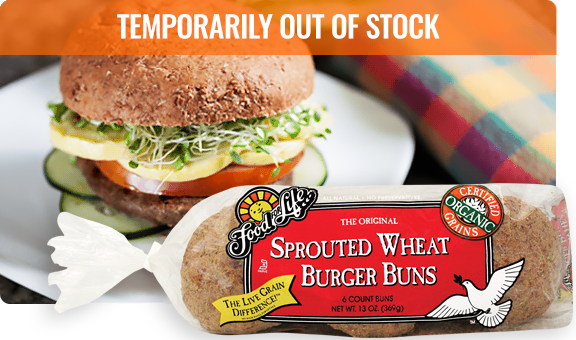 Different than most buns on the market today, these unique buns are made from freshly sprouted certified organically Grown Live grains.  We add pure organic malted barley, and just a pinch of sea salt for extraordinary flavor.  We believe in sprouting the grains we use in our buns because sprouting is the best way to release all of the vital nutrients stored in whole grains.
You can see, taste, and smell THE LIVE GRAIN DIFFERENCE™!, of Food For Life buns.  As nutritious as they are delicious.  Food For Life Sprouted Grain Buns are the substance of a meal - not just something that holds a sandwich together. See the difference fresh sprouts really make.  Try them served warm for extra nutty flavor.
Ingredients
Organic Sprouted 100% Whole Wheat, Organic 100% Whole Wheat Flour, Filtered Water, Organic Malted Barley, Yeast, Organic Wheat Gluten, Sea Salt.