Health Benefits of High Fiber Pasta
When compared to traditional flour based pasta, high fiber pasta has many health benefits for the consumer. As part of a high fiber diet, high fiber pasta can help to lower cholesterol and blood pressure, which helps prevent heart disease. High fiber pasta can also aid in digestion, and helps maintain bowel health. Another benefit attributed to dietary fiber is prevention of colorectal cancer. However, the evidence that fiber reduces colorectal cancer is mixed.
Nutrition Benefits of High Fiber Pasta
Traditional white flour pasta is often made with semolina flour, which does not contain the nutrients the body needs. As a result, the body converts this simple carbohydrate into sugar, which is stored as fat, with basically no nutrient value. There is a rush of sugar boost from eating white flour, but it is followed by a crash with feelings of being tired and heavy. Complex carbs are processed slower, allowing your body to use them more efficiently as energy instead of storing them as fat.
Just like Food for Life's sprouted grain bread, Ezekiel 4:9® high fiber pasta is multigrain and sprouted. You get the benefits of high fiber, plus the advantages of sprouted grain. Generally, this aids in digestion and provides a complete protein containing beneficial amino acids that the body can't make on its own. It not only provides grains, but also soybeans and lentils, and complete protein. Food for Life Ezekiel pasta contains 9 grams of protein per serving, which is exceptional.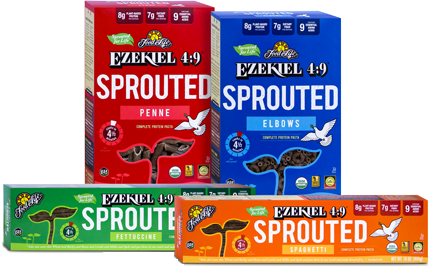 High Fiber Pasta Products from Food for Life
Food for Life has four different varieties of high fiber pasta: Spaghetti, fettuccine, penne and elbow pasta. These are all basically the same products, just made into the different types of pasta. The most popular High Fiber Pasta products are listed below:
Other products available from Food for Life include cereals, tortillas, pocket breads and waffles.
Only the freshest sprouted certified organic whole grains and seeds are used in Food for Life products, which helps your body digest more of the nutrients found in the grains. No flour is used in Food for Life products. In addition, no preservatives or shortenings, no refined sugars or genetically modified organisms are used in any Food for Life products. One great benefit of Food for Life high fiber pasta is that it taste great! Try it for yourself today.