5 Healthy Breakfast Foods You Can Enjoy Right Now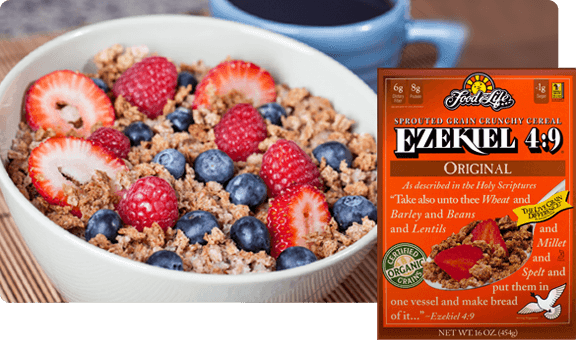 There's an endless list of things you can eat for breakfast, but most of them don't qualify as a healthy breakfast. We are often told that breakfast is the most important meal of the day, as it awakens your body and gets you moving. However, far too often we settle for a quick breakfast that lacks nutrition. Food for Life has very nutritious options that will not only provide you with a satisfying healthy breakfast choice, but will give you nutrients that are hard to find in other quick breakfast options.
 
Ezekiel 4:9 Cereals - Ezekiel 4:9 cereals from Food for Life are available in 4 varieties: Cinnamon Raisin Whole Grain, Almond Sprouted Whole Grain, Sprouted Whole Grain, and Flax Sprouted Whole Grain. These cereals provide more nutrition than other whole grain cereals due to the sprouted grain process. The grains are not used for cereal making until they have sprouted. This process breaks down enzyme inhibitors, so your body doesn't have to work as hard to absorb calcium, magnesium, iron, copper, and zinc. The sprouting grain process releases hidden antioxidants that are naturally stored in grains. Another key benefit of sprouted grains is that sprouting breaks down starches into simple sugars. These simple sugars are more easily digested by your body.

A quick healthy breakfast option is certainly the Ezekiel 4:9 cereals from Food for Life. In addition to the traditional Ezekiel 4:9 cereals, Food for Life will also be releasing flake cereals, adding more cereal options to your breakfast.

Ezekiel 4:9 Bread - Ezekiel 4:9 breads from Food for Life are available in Many Varieties. These breads are among the healthiest breads you can buy because of the sprouted grain process and nutrition that is unlocked and available for you when you enjoy Ezekiel 4:9 bread. Toast is a staple for breakfast foods, and now you can enjoy toast with Ezekiel 4:9 bread and get the nutrition you are looking for in a breakfast toast.
English Muffins - Food for Life has many varieties of English muffins for a healthy breakfast. Ezekiel 4:9 Cinnamon Raisin Whole Grain English Muffins, Gluten Free Multi Seed English Muffins, Gluten Free Brown Rice English Muffins, Genesis 1:29 Sprouted Whole Grain English Muffins, Ezekiel 4:9 Sprouted Whole Grain English Muffins, and 7-Sprouted Grains English Muffins.

You may have noticed some gluten free foods in that list, which is correct. In addition to the gluten free options, all Food for Life products are Vegan. No eggs, dairy, or animal products of any kind are used. Enjoy Food for Life English Muffins with your favorite fruit spread or other healthy spread choices.

Breakfast Burritos - Breakfast burritos can be fast or take a while, just depending on what you put in them and how much prep time you need. One thing is for sure, you need a great tortilla to create any breakfast burrito ensemble. Food for Life has many different varieties of tortillas for you to choose from: Sprouted Corn Tortillas, Brown Rice Tortillas, Ezekiel 4:9 Sprouted Whole Grain Tortillas, Exotic Black Rice Tortillas, and for those times you just want a taco sized treat, Ezekiel 4:9 Taco Size Whole Grain Tortillas. It doesn't matter which ones you choose, all of them are all natural and nutritious for a great start to your day.
Waffles - What some may consider the best for last. Food for Life is introducing waffles in four great varieties: Original, Flax, Apple Nut, and Blueberry. Besides using sprouted grains and the health benefits from that, these waffles do not use any baking soda, unlike most waffles on the market. Baking soda is not an all-natural ingredient. Some of the other benefits of Food for Life waffles include getting a complete plant-based protein and they are a great source of fiber for breakfast.
All Food for Life healthy breakfast options are made with all-natural ingredients. No artificial ingredients are ever used, no preservatives, no refined sugars, no dairy, eggs, or any other animal products. Food for Life is literally food you can eat for life, and enjoy the healthy benefits of doing so.
Find a Store near you offering great Food for Life products. Learn More about Food for Life products and the enhanced health benefits you get with each loaf of bread, English muffin, cereal, and tortilla purchased.