3 Healthy Breakfast Options for Busy Mornings
The next time you're rushing outside the door, take some time to think about the food you're eating to start your day. Not only is it important to eat breakfast, but it is also important to fill yourself with something nutritious. The right food choices will sustain you and give you the energy you need to power through your busy day. Sometimes it seems easier to grab a quick donut or bacon, egg, and cheese croissant than chopping up fresh fruit and making a healthy breakfast before you're late. That's why Food For Life set out to provide healthy breakfast options that don't take forever to make. These 3 healthy breakfast ideas offer you options that you'll never get tired of or feel tired from eating.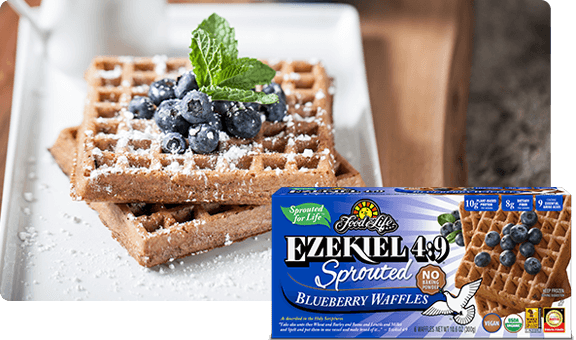 Ezekiel 4:9 Cereals - You want to aim for a breakfast that isn't high in sugar. Unfortunately, many cereals tend to be loaded with sugar and empty calories. These cereals from Food For Life are low in sugar and provide more nutrition than other whole grain cereals due to the sprouted grain process. Making it easier for your body to absorb essential nutrients these cereals are available in 4 choices: Sprouted Whole Grain, Flax Sprouted Whole Grain, Almond Sprouted Whole Grain, and Cinnamon Raisin Whole Grain.

If you need an on-the-go snack, you can also use these cereals to make a blueberry protein shake or crunchy Greek Yogurt.

Ezekiel Muffin Dream Breakfast - Sometimes, simple is just better. This recipe includes Food For Life's Cinnamon Raisin Sprouted Whole Grain English Muffin, almond butter, sprinkled almonds, and a banana.

Enjoy this easy recipe with your coffee and a small cup of berries.

Ezekiel 4:9 Waffles - Yes, it's possible to make waffles in the morning that are actually good for you. These Food For Life waffles use all-natural ingredients and include a complete plant-based protein - a great source of fiber in the morning.

These waffles come in 4 incredible assortments: Flax, Blueberry, Apple Nut, and Original.
With each of these healthy breakfast options, there is no excuse to begin your day with a meal that makes you groggy. All these ideas are easy to make and can be enjoyed by those with the busiest of schedules.
Find a Store near you offering great Food for Life products. Learn More about Food for Life products and the enhanced health benefits you get with each of these products.