Gluten Free Breads with Super Grains for Optimal Nutrition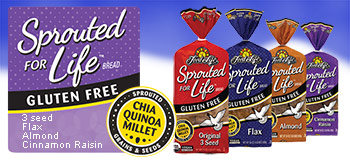 Sprouted for Life breads from Food for Life are gluten free breads made with the super seeds Chia, Quinoa, and Millet. Not only are these gluten free breads free of any gluten, they are also free of any rice, unlike most gluten free breads on the market. Additionally, they do not have any dairy or eggs, or any other animal products. The Sprouted for Life breads are gluten free, made with super seeds for great nutritional value, rice free, and vegan.
Gluten free sprouted grain breads are truly unique and Food For Life's Sprouted For Life breads are one of the only sprouted gluten free breads on the market.  Out of a love and desire to serve its customers, Food For Life invested innumerable hours to develop the perfect gluten free breads and vegan breads that maintain all of the benefits of sprouted grain breads. This means bread that is much easier to digest, much more satisfying and nutritious for your body.  Whether you are gluten intolerant or vegan, the sprouted gluten free breads are manufactured with everyone in mind. This is a plant-based whole food that is 100% kosher, 100% fresh, and 100% delicious. It also has a dense, rich texture that is packed with the healthiest grains that can be found in bread. If you need gluten free toast or gluten free sandwich bread, look no further than Food For Life's sprouted gluten free breads.
The Sprouted For Life gluten free breads use three seeds (Chia, Quinoa, and Millet) that are naturally low glycemic seeds, and contain natural essential fatty acids.
Chia Seeds - These super seeds in chia bread are known to boost the Fiber, Protein, Calcium, Antioxidants, and Omega-3's in your diet. "Use chia seeds in foods, not as a supplement, but as an alternative to processed grains like white bread because it is a much healthier whole grain that is great-tasting in foods like muffins," suggests Michael Roizen, MD, co-author of You Staying Young.
Quinoa Seeds - These super seeds contain Iron, Vitamin B, Magnesium, Phosphorus, Potassium, Calcium, Vitamin E and Fiber. Quinoa is one of the only plant foods considered a complete protein and comprised of all pernine essential amino acids.
Millet Seeds - Millet has high protein content (15%), which makes it a substantial addition to a vegetarian diet. Other benefits include Magnesium, Manganese, and Copper.
Chia, Quinoa, and Millet are naturally gluten free breads that offer much more than just gluten free. The Sprouted for Life gluten free breads are available in four varieties:
Original 3 Seed
Flax
Almond
Cinnamon Raisin
Food For Life also has alternate gluten free breads for those looking for something different. These include:
Rice Pecan
Rice Almond
Rice Millet
White Rice
Brown Rice
Raisin Pecan
Take advantage of these great breads available now at Retailers Near You. Find out more about all the Food for Life Gluten Free Breads and other great Gluten Free Products. Food for Life breads bring you the best tasting gluten free bread for your health. No artificial ingredients of any kind are used, no refined sugars, no preservatives, no GMO's, no animal products are ever used. Enjoy the healthy Food for Life difference. No matter which Food For Life gluten free breads you choose, you are going to feel the transformative difference of eating whole, nourishing breads – all without the need to go through the labor intensive process of making your own bread. Each loaf you buy is large and nutrient packed. You will not find heartier or healthier gluten free breads on the market.