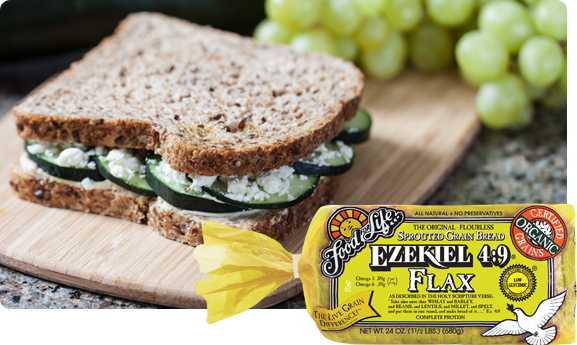 What's the Best Way to Keep Bread Fresh?
You buy a healthy loaf of bread at the grocery store and put it in that cute little bread box on your counter at home. Maybe you get a few seemingly fresh slices out of it before you notice it starts to lose its freshness. This is more common with healthy foods that don't contain preservatives and may be a sign that you are actually eating healthy bread. So what's the best way to keep bread fresh? Here are a few secrets from Food for Life about how to make your healthy bread stay fresh longer.
Freeze Your Bread
Why is it whenever you buy healthy food, it seems to go stale faster than other food? Standard bread on the shelves of your grocery store is kept fresh by using different added preservatives such as modified wheat starch and BHT (butylated hydroxyanisole). For those who lead a healthy lifestyle, these are not desirable food ingredients. Food For Life breads are sold as a frozen product in the freezer section of most grocery stores and are guaranteed for up to twelve months in the freezer. One way you can make sure you always have a fresh supply of healthy bread is to take part of the loaf (however much you think you will eat within five days), put that in your bread box, and put the other half back in your freezer. Another savvy bread secret is to store a loaf or a few slices in the refrigerator. This is the best way to keep bread fresh for pre-packed lunches and sandwiches because when you bring it to work or school, the bread becomes room temperature by lunchtime! You can also keep your toast nice and fresh by storing it in the refrigerator and then popping it in the toaster when you're ready to enjoy it. Here's a simple life expectancy guide to help determine the shelf life of your Food For Life bread.
| | | | |
| --- | --- | --- | --- |
| Life Expectancy: | Frozen | (0°F) | 12 months |
|   | Refrigerated | (45°F) | 2 weeks |
|   | Fresh | (75°F) | 5 days |
Buy Double Wrapped Bread
Healthy bread doesn't have a shelf life as long as bread brands that do use preservatives. The second-best way to keep bread fresh is to buy double-wrapped loaves. Food For Life double wraps all of their bread products to provide an additional barrier of moisture to keep it as fresh as possible. Healthy bread products that have a single layer of packaging are typically not as fresh and tend to dry out faster, creating that hard, stale texture. Double-wrapped bread products lock in moisture and make bread less susceptible to freezer burn, which is caused by dehydration and oxidation when frozen food is exposed to air.
Know the Production Date
The best way to keep bread fresh is to store it in the freezer, but it's very important to know how long your bread is going to last. This can be difficult as many healthy bread brands do not have a "best by" date because they do not use added preservatives. To determine the shelf life of your healthy bread, you usually need to know the production date. One of the best things about Food For Life bread is their production date calculator on their website. All you need is the five digit lot number on the plastic clip of your Food For Life bread! Once you enter the lot number, you can determine the shelf life of your bread using your desired storage method – frozen, refrigerated or fresh.
Food for Life is dedicated to crafting truly wholesome baked goods that specifically cater to helping health-conscious people live life to the fullest. With yeast-free, gluten-free, vegan and diabetic-friendly options, there are plenty of Food For Life breads to choose from. The next time you worry about the best way to keep bread fresh, make sure you start with a healthy, wholesome bread brand you can trust like Food For Life.
Find bread worth keeping fresh with Food For Life's Store Locator !