Quick Meal Ideas for the Healthy Individual
Preparing healthy meals for one can be challenging when you're constantly on the go. The temptation to eat unwholesome food strikes hard and fast when you're the one responsible for the shopping and cooking. The fact of the matter is that solo meals don't have to mean peanut butter and jelly sandwiches. You can treat yourself to recipes that give you the joy of having a nutritious meal without spending the time you'd think it would require. All of these Food For Life quick meal ideas taste and present like they took hours make, despite only taking 30 minutes or less!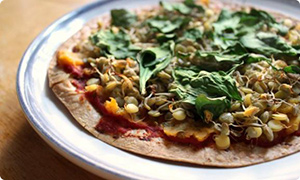 Sprouted Lentil and Butternut Squash Pizza – The quickest, most unbelievably healthy pizza that features Food For Life's brown rice tortillas. With butternut squash, balsamic vinegar, sprouted lentils, and more, this appetizing meal might be one of the most enjoyable and easily prepared foods you have ever experienced.
Big Sur Vegan tacos – A no hassle and no mess meal that uses organic ingredients. Non vegans, vegetarians, and high-raw folks alike will enjoy this sprouted corn or sprouted grain tortilla recipe.
These recipes have minimal ingredients and prepare times to help make keep your eating time quick and nutritious. Remember to plan ahead by purchasing your groceries a head of time so that you have everything you need on hand for the week.
All of these recipes are user submitted and can be found here.
Do you have any quick meal ideas using Food For Life products? Please share your ideas!