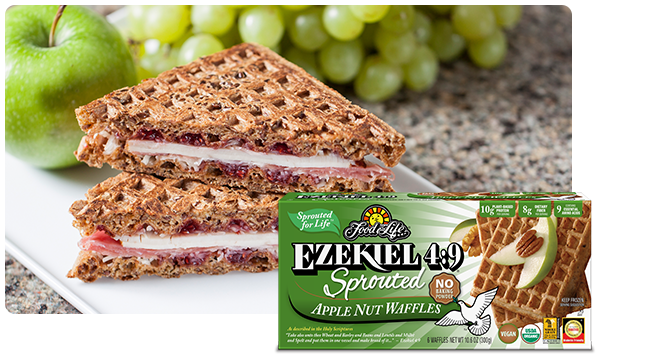 The Best Frozen Organic Waffles
If breakfast foods attended high school, the waffle would be the popular student that is friends with everyone and wins prom king. This is because waffles are easy to make and every kid (and adult) loves them. Inspired by the demand of this highly esteemed breakfast, Food For Life worked for years and years to create a sprouted grain, organic waffle. The result was whole wheat waffles that are much healthier and just as easy and fast.
One of the reasons to eat organic waffles is because many traditional waffles use synthetic chemicals that add no nutritional benefits to the body. These chemically packed waffles have been speculated to trigger behavioral problems and increase the likelihood of cancer. On the other hand, organic waffles allow you to "eat clean" and move towards a happier, healthier, non-GMO lifestyle.
When it comes to organic waffles, there are normally two options: make them or buy them. There are many benefits to buying organic waffles compared to making them at home. First, there is a time constrain associated with making waffles at home. Anything that involves purchasing ingredients, mixing up the batter, and cooking the waffles in a waffle iron is going to be time investment. If you're like most people, you have a full calendar and are looking for a convenient breakfast. Homemade waffles not only have limitations on convenience, but nutritional limitations as well. Although you can make organic waffles using ingredients like organic coconut flour, there is no easy way to make sprouted organic waffles at home. The sprouted grains used in Food for Life waffles are a one of a kind way to provide more nutritional value of complex carbs, extra nutrients, antioxidants, and vegetable-based protein.
The waffles come in many flavors such as:
All of Food For Life's waffles are flavored with actual ingredients, not added syrup or flavoring. Whereas traditional, frozen blueberry waffles are made with artificial sweeteners, the sprouted, organic waffles from Food For Life are sweetened with real, whole blueberries. It truly has no comparison to any other waffle on the market.
Find a Store near you that has Food for Life sprouted, organic waffles.