Gluten Free Brown Rice Tortillas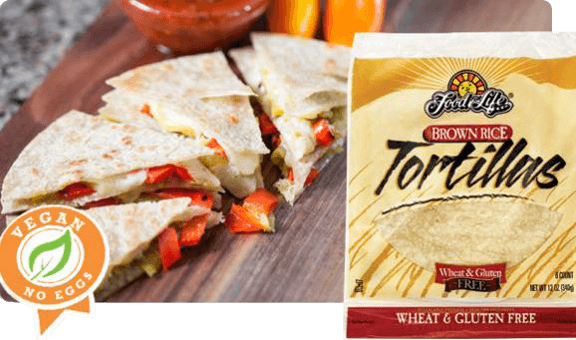 Gluten free products are great for the health benefits they provide, but finding certain specialty breads like tortillas has been challenging. Many new gluten free products are introduced all the time, but many of those do not taste good and lack desirability. Food for Life has developed gluten free brown rice tortillas that not only provide the health benefits of being wheat and gluten free, but they also taste great. The moist brown rice tortillas can be used in any cooking application you'd use traditional tortillas, just without the negative health affects white flour tortillas cause for people with gluten sensitivity.
Gluten free isn't only for people with digestive disorders, it's for everyone. People who struggle with Celiac disease and inflammatory diseases such as Crohn's disease, lupus, rheumatoid arthritis, and fibromyalgia need to avoid eating any food with gluten in it because it inflames joints and causes pain. People with gluten sensitivity reap the benefits of being gluten free which include a reduction in inflammation of the joints, better digestion of their food, and some increases in energy. Overall, people eating gluten free can expect a healthier life. Fortunately, gluten free products, like gluten free tortillas from Food for Life, are becoming more accessible to consumers all over the country at many natural grocery stores.
Individuals on a gluten free diet are very selective of the type of gluten free foods that they eat. This is because there are so many gluten free products that are very expensive and either have an off taste or a weird texture. Many even have doubts about the production processes of manufacturers as several of them process wheat products in the same machinery as gluten free products. This cross contamination can be very harmful to someone who is serious about maintaining a gluten free lifestyle. When it comes to gluten free tortillas, manufacturers tend to produce tortillas that are high in salt and low in nutritional value. Gluten free tortillas tend to crack and fall apart easily during use. For these reasons, Food For Life's gluten free tortillas stand out from all of the others.
Over the years, many individuals on a gluten free diet have tried gluten free tortillas from numerous brands and they always find themselves choosing Food For Life as their go-to manufacturer. Our flour free tortillas are sprouted which means that the grain is living and optimized to break down nutrients in the body. One look at the list of ingredients and you'll see this is by far the healthiest tortilla you can possibly eat. Gluten free enthusiasts also find comfort as they realize that none of our gluten free products are produced in machinery that has touched flour. This makes them 100% gluten free and no one ever has to worry about cross contamination. Other than being a truly gluten free product, the most important factor is the taste and texture. This is a key distinguishing factor from all other products. Food For Life's gluten free products are incredibly delicious and have become a go to breakfast, lunch, and dinner option for many of our customers. Whether you fil your tortillas with butter, eggs, avocado, or salsa, these affordable gluten free tortillas will satisfy your taste buds and your hunger. Food For Life's gluten free tortillas are praised for being the healthiest tortillas with the most delicious taste.
To enjoy life to the fullest, there are few things more important than having the right foods that bring energy, endurance and enjoyment.  The right gluten free products play a crucial role in making that happen and we're very excited to have manufactured tortillas that have transformative effects on our customers.
In addition to the gluten free brown rice tortillas available at Food for Life, here is a list of some of the other great gluten free products Food for Life offers:
Food for Life also has a growing list of other great products including sprouted grain breads, pastas, pocket breads, cereals, and waffles.
All products at Food for Life are all natural and filled with organic ingredients. There are never any chemicals, preservatives or anything artificial used in Food for Life products. No GMO's (genetically modified organisms) are ever used in Food for Life products. Because of the slow baking process used at Food for Life, vitamins and minerals are preserved in the products. In addition, all gluten free products are made without any casein, egg, or dairy products. The gluten free breads, English muffins and tortillas from Food for Life help people feel better while giving gluten intolerant individuals the health benefits they can't comfortably live without.
Gluten free brown rice tortillas provide all the gluten free benefits and they taste great! It just doesn't get any better than that.
Find a Store near you that has Food for Life's gluten free tortillas.