3 Easy Healthy Recipes For Each Part of the Day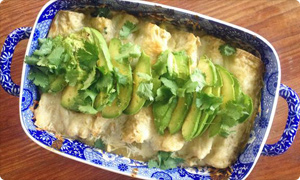 Whether you are worn out from work, kept busy by your family, or simply do not have the time or energy to spend hours in the kitchen, healthy meals can seem like an out of reach desire. This may even cause you to turn to fast food or unwholesome microwaveable foods because you want to speedily produce a meal. Whatever your reason is for desiring to quickly prepare a meal, there are easy healthy recipes available to keep your body satisfied and lively.
Healthy meals don't have to look dull, taste awful, or take hours to prepare. Here are 3 nutritious recipes that are convenient to make and will keep you satisfied for breakfast, lunch, and dinner.
Greek Yogurt with A Crunch – This healthy breakfast takes minutes to make and features Food For Life's sprouted whole grain cereal with cinnamon raisins. This sprouted grain cereal tastes great mixed with Greek yogurt, honey, and cinnamon and it gives your body the nutrients it needs to start the day feeling energetic.
The Metropolitan Morsel – This incredibly light, healthy, and nutritious meal features Food For Life's gluten free brown rice English muffins and makes the perfect lunch, especially if you're on a gluten free diet.
Green goddess Enchiladas – Skip the high sodium Mexican food and try these delicious enchiladas for dinner. Using Food For Life's sprouted corn tortillas, this diabetic friendly meal takes only 15 minutes to bake.
Food for Life has a wide range of easy healthy recipes that you can add to your lifestyle. Some of the most popular recipes by diet include the following:
Food For Life has recipes that feature its buns, cereal, English muffins, pasta, pocket bread, and tortilla.
Many of these recipes are user submitted. If you have a recipe you would like to submit using Food For Life's products click here.