Vegan and Gluten Free Bread Sprouting with Nutrition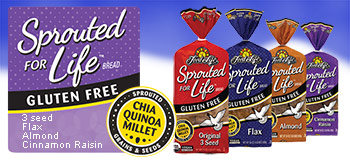 There are few truly Vegan gluten free bread products on the market, and they are not created equal. One of the key things you look for in a Vegan gluten free bread besides being truly vegan and gluten free is the nutritional value. This is what separates Food for Life Sprouted for Life™ breads over any other. These Food for Life breads, along with all Food for Life products, are Vegan. There are no animal products of any kind used in the making of any Food for Life products. The benefits you get from eating a truly Vegan bread extend to the nutritional value which includes a complete protein, zinc, fiber, Vitamin B6, Thiamine, Riboflavin, Folic Acid, Niacin, Calcium, Magnesium, Iron and Phosphorus.
It seems like everyone has gluten free products that include breads, but the desired texture and taste fall short. In an effort to get products on the market that are gluten free, many companies have used less than nutritional ingredients in their breads. This is done in an effort to replace some of the elasticity you get when gluten is used in bread, providing the soft and chewy texture. Other companies have used ingredients that are not nutritious for you, thereby minimizing the overall nutritional value of their breads.
Food for Life's Sprouted for Life™ breads are completely gluten free. No artificial ingredients, no chemicals, no preservatives are used in these breads. What are used are incredibly nutritious superseeds like sprouted millet, sprouted quinoa, and sprouted chia seeds. The nutritional benefits of sprouted grains are enormous. Sprouting breaks down the carbohydrates and protein in the grains, making it easier to digest. It also makes it easier for your body to absorb the essential minerals from the grain like iron, zinc, copper, magnesium, and calcium. Sprouting also releases more antioxidants stored in the grains and seeds than traditional breads, allowing the nutritional benefits to go to you instead of being lost through the digestive process. More nutrition comes from the Vitamin C, Vitamin B2, B5 and B6 that are provided by the sprouting process. Learn more about the sprouting process and sprouted grain breads and why they should be part of your diet.
Sprouted for Life™ Vegan Gluten Free Breads
These sprouted seed breads from Food for Life are available in original 3 seed, flax, almond, and cinnamon raisin. They all contain a plant based protein and are sprouted to maximize nutrition and digestion. All of these breads are sprouted, Vegan, and gluten free. In addition to that they are Kosher and USDA organic.
Locate a Store near you to get Food for Life Sprouted for Life™ Vegan gluten free breads and get started enjoying a truly Vegan and completely gluten free bread that tastes great, has great texture, and overall has unsurpassed nutrition.