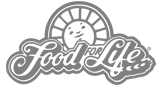 | | |
| --- | --- |
| FOR IMMEDIATE RELEASE | July 10, 2013 |
Due to the recent increase in demand for all Food For Life Ezekiel 4:9 Sprouted Grain Breads, buns, tortillas from unexpected sources, we have recently been experiencing shortages.
However, we are pleased to announce that we are addressing this sudden spike and are currently increasing capacity as of this very moment.
Because the type of product we produce is quite complex and simply cannot be rushed, we are addressing this unprecedented challenge- which is taking place over the next several months. We are currently expanding capacity the right way, while adhering to very strict quality standards.
The good news is we feel certain you will see a reduction in out-of-stocks at your local retailer on all Food For Life sprouted and natural baked goods soon.
We sincerely value your patronage. As your partner in health, we are committed to serving you for many years to come.
On behalf of all of us here at Food For Life, we thank you for your patience, understanding and continued support of Food For Life products.
Sincerely,
Gary Torres
Food For Life Baking Co., Inc.
2991 E. Doherty St.
Corona, CA 92879
(951) 279-5090 / Fax (951) 279-1784
www.foodforlife.com