Submitted by developer on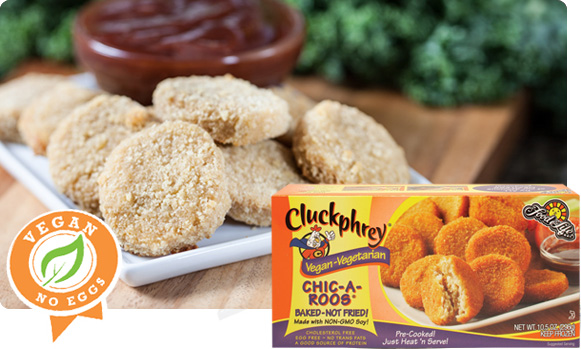 "The Superheroes of the Vegan World!"
Ingredients
Filtered Water, Non GMO Textured Soy Protein Concentrate, Textured Wheat Gluten, Non GMO Soy Protein Isolate, Safflower Oil. Contains 2% Or Less: Potato Flakes, Natural Flavor (Non-Meat), Wheat Flour, Wheat Gluten, Organic Soy Fiber, Konjac Flour, Evaporated Cane Juice, Onion Powder, Spices, Citric Acid, Celery Extract, Sweet Basil. BATTER: Filtered Water, Wheat Flour, Yellow Corn Flour, Sea Salt, Dry Yeast. BREADING: Wheat Flour, Dry Yeast, Sea Salt, Evaporate Cane Juice, Natural Spice, Natural Flavor, Safflower Oil..
Disclaimer
FOOD FOR LIFE, FOOD FOR LIFE Sun Logo, EZEKIEL 4:9, GENESIS 1:29, THE LIVE GRAIN DIFFERENCE, SPROUTED FOR LIFE, THE SPROUTED GRAIN DIFFERENCE, CLUCKPHREY, MOOPHREY, PROPHET'S POCKET BREAD, IT'S A NATURAL and THE NEXT LEVEL OF WHOLE GRAINS are registered trademarks owned by Food For Life Baking Co., Inc. The Dove Logo, and Prophet's Pocket Bread are trademarks owned by Food For Life Baking Co., Inc.
Popular Products